Dido's Bar is an epic retelling of Virgil's Aeneid, created and performed by a multilingual international ensemble of actor-musicians, bringing to life the classic myth of migration, love, and assimilation, through the eyes of refugees today. The work is inspired by director Josephine Burton's encounter with Kurdish Iranian now Finnish resident, composer Marouf Majidi and is written by Hattie Naylor.
Dido's Bar opened in London's historic Royal Docks before touring Manchester, Leicester, Portsmouth, and Oxford.
"Director Burton makes inventive use of the venue's immense space, with scenes unfolding behind a well-stocked bar, on stage with a tremendous live band, and at various tables scattered amongst the audience." (John Cutler, The Reviews Hub)
"Moving, sensitively written, expertly directed and brilliantly-acted." (The Plays The Thing)
"Dido's Bar was an intense, immersive and magical experience. Indulgently compelling and overflowing with empathy, it has everything from irresistible and hypnotic characters to an unfailingly striking and eclectic score." (Old Fire Station)
RAJAMAILLA
Joy from long sorrow
The performance combines music, dance and physical theatre in the form of traditional, composed and improvised sound and movement. The base for the performance is the tradition of lamentation in Karelia and Middle East.
Rajamailla Company's first work Ilo Pitkästä Murheeeste brings together the mourning traditions of Karelia, Inkerinmaa and the Middle East. The strong bodily dimension associated with crying has also enabled the study of dance traditions related to crying. From these elements, Rajamailla Company has put together a work in which the fascination of the language of lament, the physicality of sorrow, the enchanting world of melodies, compassion and the spectrum of shades of sadness are present.
joy from long sorrow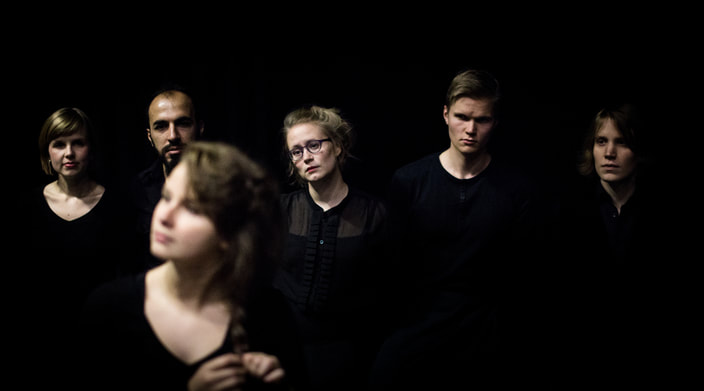 In the story of the Persian poet Said Ibn Dschûd, one day while walking down the street, the poet hears a woman's voice and sees only her hand. In this case, the poet falls passionately in love with the woman, although he never sees her whole. Smiling hands is a performance about distant love, dreams and unattainable dreams, but also about the reality of loneliness and encounter. The show's timeline stretches from the time of dreams, history and stories to this time and reality.
Myllyteatteri